Ways of Checking Canara Mini Statement: Through Missed call services, ATM services, Mobile banking, Canara e-passport, Net banking. Canara Bank Mini Statement Number 2023.
Canara Bank Mini Statement
Frequently account check-up enables an account holder to monitor their account actives such expenses, incomes, any bank errors or cyber frauds for better budgeting. Inspecting your bank accounts at least once or twice a week promotes accountability in your transaction details. A Mini Statement provides an overview of ten recent transactions on your account.
The Canara Bank is an incredible Indian banking and financial institution that has invented multiple ways of checking the customer's Mini Statement details. This bank was established in the 20th century in Mangalore, India. It is highly accessible as it has over 9,720 branches and 10,745 ATMs. Moreover, some of its offices are in Dubai, London, and New York.
Ways of Checking Canara Mini Statement
You can check your Canara mini-statement status through the following:
Missed call service
Internet banking
ATM services
Mobile Banking
Canara e-Passbook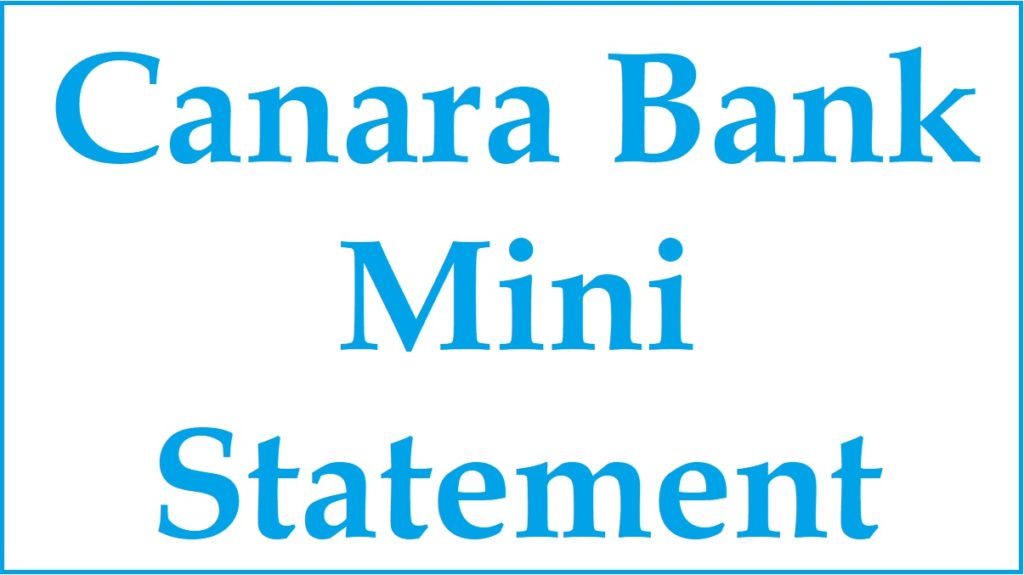 Canara Bank Mini Statement Number
Missed call service: This method favors offline users since it does not require any internet connection. Furthermore, it is a faster and simpler way of checking the last five transactions in your bank account. The missed call service also provides your balance, debit, and credit details.
To check your transactions, dial 09015734734 using your registered number. After a few rings, the call will automatically disconnect, and a message is sent to your registered number containing your past five transactions, current balance, and debit and credit details. To get your transaction details in Hindi, dial 09015613613.
Get Canara Bank Mini Statement Through Net Banking
Net banking offers services like transfer and deposit details and online payments. To check your mini-statement using Canara Internet Banking, you should follow the following steps:
Navigate to the official website of Canara Bank net banking portal
Press the Account Statement option in the Accounts menu
Choose the time you need the statement
Choose the format you want your mini-statement to appear
You will now get a view of your bank account transactions.
ATM Services for Getting Canara Bank Mini Statement
ATM Machines are banking outlets whereby you can conduct transactions like bill payments, balance transfers, and checking deposits without visiting the bank. It requires no internet connection and is hence suitable for use by non-internet users. To avail your mini-statement through the ATM Machine, you should:
Go to a nearby ATM Machine and insert your Canara Bank Debit card
Select the language you wish to use.
Key in your ATM pin
Tap on the Mini Statement option
You will now get a view of your Canara Bank Mini Statement showing details of your last ten transactions.
The system allows user to get a receipt for reference.
Using Mobile Banking Get Canara Mini Statement
Through mobile banking, customers can carry out financial transactions remotely. This is an internet dependant method that is always available unless stated otherwise by a specific institution. To conduct mobile transactions, one has to link their mobile number with their bank account.
Check Canara Mini Statement Through Canara Mobile Banking
Process of checking your Canara Mini Statement through Canara Mobile Banking
Once you have linked your mobile number with your bank account, you can check your Canara Mini Statement using the "CANMOBILE" app. You only need to download and install the app from the Google play store or the Apple store and follow the following process:
Navigate into the CANMOBILE app using the given credentials
Proceed to the Pay and transfer section and tap on the e-passbook option
Press the Mini Statement button, select the time duration, and submit
You will now view your Canara Mini Statement details.
Canara E-Passbook
The Canara e-passbook app allows customers to view their online or offline transactions on their mobile phones. No money is charged for using this app which is downloaded and installed from the Google play store or Apple store. To get your Canara Mini Statement using the Canara e-passbook app, one has to follow the following process:
Navigate into the Canara e-passbook app using the mPIN
Press the Pass sheet button
Enter the period you want your statement
You will now view the details of your e-passbook
How to Register Mobile Number with Canara Bank Account
Registering your mobile number with Canara bank enables you to receive notifications on your mobile phone through SMS any time transactions are carried out in your bank account. One can register their mobile number with Canara Bank through:
 Visiting the nearest Canara Bank ATM
 Visiting the nearest Canara Bank branch
Visiting the nearest Canara Bank ATM
In the ATM, insert the Canara Bank debit card
Key in your ATM pin
Click on the Registered mobile number option and key in your mobile number
Key in the OTP that will be sent to your phone and press confirm
If your mobile number gets linked, you will receive a confirmation message.
Visiting the Nearest Canara Bank Branch
Here you must fill in a form provided by the bank employees whose information is used to register your number and link it with your bank account.
What are The Benefits of Using Canara Mobile Banking Facility?
Accessing the past five transactions is done swiftly.
The account holder can enquire about the cheque status, request stop payments, or request a new cheque book.
A message containing transaction details is sent to the registered number of the account holder whenever transactions are made.
It saves time and money since you don't have to travel to the bank and make endless queues.
It is the safest way of obtaining your mini-statement remotely.
Canara Bank Last 5 Transaction Number
+91 9015734734
FAQ'S
How can one get their Mini Statement in Hindi?

One can get their Mini Statement in Hindu through the missed call method by dialling 09015613613.