Ways to access to Know RBL Bank Account CIF number. How to Find RBL Bank CIF Number using 5 Different Methods at https://rblbank.com
RBL CIF Number
RBL Bank India highly considers their loyal customer by providing convenient banking services. The private sector bank has developed various banking and financial services that suit each registered member's needs. It's easy to transact on RBL banking platforms from the comfort of your office or home.
The digital move allows one to bank through mobile phones and computer devices. It's easy to operate multiple accounts on your device under one platform.
The banking access is also solidified by using a unique identifier, namely CIF or Customer Information File. Every registered customer is allotted the CIF number once they open an account with RBL.
CIF number or customer ID holds account user's bank information. The bank can view your account, contact information, address, name, loans attached, credit cards, transaction history, and more. It's a unique user platform that contains bank information for easy services.
RBL BANK CIF Number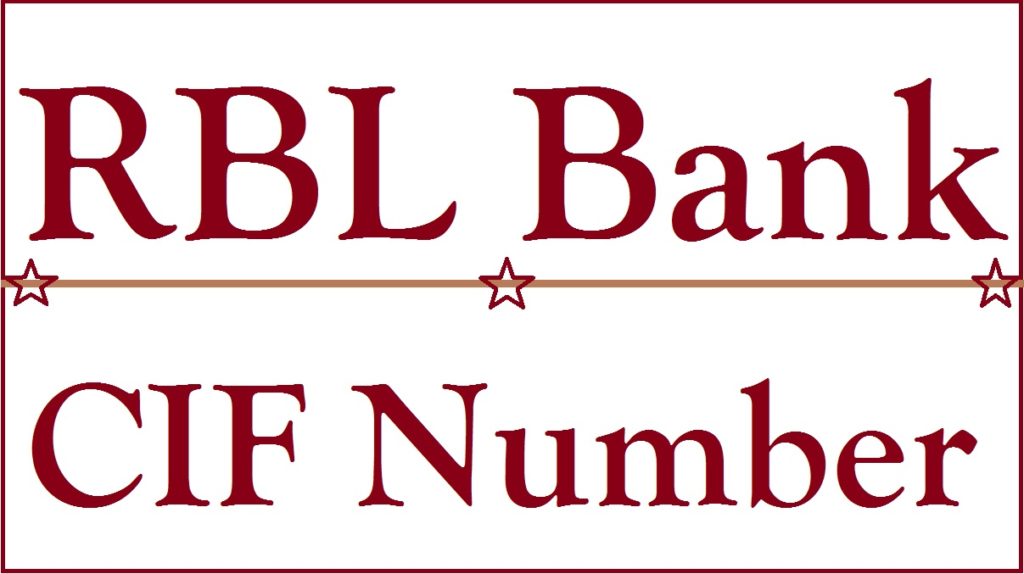 CIF number is open to the account holder and unique to everyone. RBL Bank allows customers to access CIF numbers from various facilities. The number helps users access all bank services such as net banking, mobile banking, and more. RBL bank can also trace your credit score or credit history and determine your eligibility for loan application or credit card application process. To get your CIF number, the user utilizes the following methods.
What are the Required details to access RBL Bank CIF Number?
A registered mobile number
Member's checkbook
RBL passbook
Welcome kit or letter
Your credit card or debit card information
Attaining your CIF number doesn't require you to visit the bank branch. However, it is also an option if you don't have other banking facilities. An RBL account user can number using the methods below.
CIF Number Through Welcome SMS
RBL bank sends a welcome SMS to new applicants or people opening an account. The SMS contains banking information which includes the Customer ID or CIF number.
How to Get RBL CIF Number by Sending an SMS
You can request the RBL Bank for a CIF number by SMS mode through your mobile phone.
Go to your SMS section and type:
CIF< last four digits of the RBL account>send to > +919223366333.
Note the message should be sent from a registered mobile number with the bank.
RBL bank will review and process the request. The user will receive the CIF on their device through SMS.
Get Your RBL bank CIF using MoBank Mobile APP
Open your MoBank or RBL mobile banking app.
Enter your login credentials and select the "more" button on the menu.
Select "personal details" to view the CIF number and other bank information.
Save the CIF number for reference.
How to Know CIF Number of RBL Bank Through Net Banking
RBL Bank CIF Number on RBL Net Banking Platform: RBL customers registered for net banking services can access their banking profiles online.
Open the RBL net banking portal

https://online.rblbank.com

Enter your user ID and password on the page

Proceed to the "my profile" section to open the personal bank details.

Get the CIF number

Save it for reference. Its importance
How to Find RBL CIF Number Using Cheque Book
RBL bank provides customers with various checkbooks based on the request. The book contains the account user's bank information on the first page.To view your CIF number open the first page save the number for later use.
How to Get a RBL CIF Number Through the RBL Passbook
RBL passbook is a reliable banking facility that contains account users' information. The bank prints the information on the first page of the passbook. RBL account holders should check the CIF number on the page.
Get RBL CIF Number by a Welcome Letter
RBL bank provides every account holder with a welcome kit or letter during the account opening process. The kit has your debit card, passbook, and all bank details. To avail of the CIF number, check the information on the welcome letter.
The above methods are easy and readily available for all users. However, RBL bank allows account users to visit the bank branch for banking details. An account user can visit and request for CIF number. The bank officer will request some proof details, and once approved, they will provide the CIF number.
FAQ's
What RBL number can I call the RBL customer care?

RBL bank users can call the number +912261156300 to request any banking service.

Why do I require a CIF number?

To operate most RBL banking services such as internet banking and mobile banking. The account user needs a CIF number.
For more information visit the link https://www.rblbank.com/ways-to-bank/static/terms-condition/mobbankfaq.html